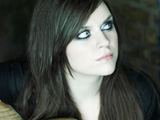 Amy Macdonald
has admitted that she could never dress like Lady GaGa.
The singer, who
recently
announced a string of UK tour dates, said that she could never pull off GaGa's image.
"Lady GaGa can carry it off but I might look an idiot," the
Daily Record
quotes her as saying.
"I don't know how she does it. I imagine she can't wear the same thing more than once. She must have a massive house for all her clothes."
The 20-year-old also said that she hasn't changed her appearance much since her last album and is a fan of high street clothes.
She added: "I wouldn't say I've had an image change. I go to every high street shop and buy whatever is the in-thing, military or sequins.
"Everyone has an image change every season or every time Topshop changes stock."