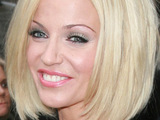 Sarah Harding
has denied reports that she will release a solo album.
The Girls Aloud singer, who recently
suggested
that she was recording an LP, said that she will not release a solo record but wants to do more work in music and film.
"I never said I was going solo,"
Tellymix
quotes her as saying. "Can I just straighten that out? I'm still wanting to do music and involve myself more in film."
Harding announced her acting plans for the next year although added that it is too early to reveal specific details.
"I love thrillers. I'd love to do something quite psychological, paranormal. I'm a bit sort of sinister like that but I also love comedy as well, I love a good comedy," she explained.
"I've got a few things I want to do this year. I've got a few bits and bobs but it's too early to talk about, things in production and all that. There's possible TV and possible film, bit of both."
The 28-year-old dismissed the possibility of a musical role, claiming that it would be better suited for bandmate Kimberley Walsh.
She said: "I'm not… I think Kimberley would be amazing at musicals actually. She loves musicals, she knows every single one inside out. I think I'd give that one to her."