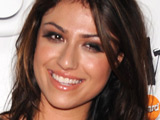 Gabriella Cilmi
has admitted that she felt under pressure while recording her second album.
Cilmi, who released
Ten
last week, explained that she had to finish the record within a year.
She told
Bang Showbiz
: "It took me three years to write my first record [
Lessons To Be Learned
], then last year I was recording for the whole year and I felt like the whole time I had this time bomb ticking at the back of my head because I only had a year to make it.
"This time it was proper lockdown in the studio, being there from the afternoon until five o'clock in the morning sometimes, working with groups of people, which is hard for me, because when you're writing something personal like a song it's hard to put that in a group environment."
The
'On A Mission'
singer added: "It was quite an emotionally draining experience writing this record."
Earlier this week, Cilmi
revealed
that she is interested in exploring "new age" and country music in her next albums.