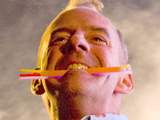 Norman Cook
has revealed that he is hoping to create a musical.
The DJ, also known as Fatboy Slim, told the
Daily Star
that he is working on a new record with David Byrne which he hopes to adapt for the stage.
"David has made a concept album on the life of Imelda Marcos and roped me in," Cook explained.
"There's Florence Welch, Cyndi Lauper and Sia all playing the part on the record. If the album does well, hopefully we'll get the money to do a musical."
Cook added that he has been forced to relocate his Brighton Beach festival to London because it was so successful.
"It's too expensive to do it in Brighton as we've become a victim of our own success, unfortunately," he said. "So we're moving the whole thing to Clapham."
Cook and his wife Zoe Ball
welcomed
their second child earlier this year.