Music News
Brian McFadden scores second Aussie No.1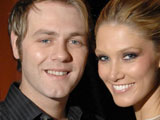 Brian McFadden
has scored his second No.1 on the Australian singles chart.
'Just Say So' - featuring, co-written and produced by Kevin Rudolf - debuts in the top spot this week, ending Train's month-long reign at the summit with 'Hey, Soul Sister'.
The former Westlife star previously reached the top with 2005's 'Almost There', a duet with Delta Goodrem, the singer who would later become his fiancée.
Train slip to second position this week, while 'I Like That', a dance collaboration between US DJs Richard Vission and Static Revenger, holds steady at three.
Meanwhile,
American Idol
star Adam Lambert scores his first Aussie top ten hit after climbing from 11 to five with 'Whataya Want From Me'.
Lady GaGa's latest Antipodean release, 'Alejandro', also enters the top ten this week, leaping from 28 to six to become her seventh Aussie top ten hit in less than two years.
The top ten singles in full (click where possible for our reviews):
1.
(-) Brian McFadden ft. Kevin Rudolf: 'Just Say So'
2.
(1) Train: 'Hey, Soul Sister'
3.
(3) Richard Vission & Static Revenger ft. Luciana: 'I Like That'
4.
(2)
Jason Derulo: 'In My Head'
5.
(11) Adam Lambert: 'Whataya Want From Me'
6.
(28) Lady GaGa: 'Alejandro'
7.
(8) B.o.B. ft. Bruno Mars: 'Nothin' On You'
8.
(7) Kevin Rudolf: 'I Made It'
9.
(6)
Justin Bieber ft. Ludacris: 'Baby'
10.
(15)
Usher ft. will.i.am: 'OMG'