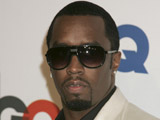 P Diddy
has denied speculation that he is
managing
Nicki Minaj and Rick Ross.
In an interview with
UStream
, Diddy dismissed the rumours and confirmed that he has an announcement to make in the coming weeks.
The 40-year-old said: "For the record, as I said before, don't believe the rumours. I have not made no announcement yet, don't believe no rumours about anything y'all hear. Me and Nick, we just cool. I like her style. Rick Ross, he's my brother. There are no management announcements or none of that.
"So everybody, worry about what you're worrying about. It's all right for people to know each other and have an admiration towards each other and maybe pick each other's brains for advice. I will be making an announcement in a couple of weeks on some things. But right now, everybody let's chill out and be cool and stay focused on being positive."
Last week, it was
claimed
that Diddy was dating Minaj.