Music News
Usher knocks McFadden off Aussie top spot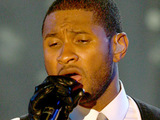 Usher
has ended Brian McFadden's three-week reign over the ARIA singles chart.
His track 'OMG' - featuring, co-written and produced by will.i.am - climbs from two to the top spot this week to become his second Aussie No.1.
The 34-year-old R&B singer previously reached the summit with 'Yeah!' in 2004.
Behind Usher, McFadden slips to two with 'Just Say So', while B.o.B jumps from seven to three with 'Nothin' On You'.
The only new track in the top ten comes from Jason Derulo, who leaps from 13 to seven with 'Ridin' Solo', notching up his third Aussie top ten hit in under five months.
Meanwhile, the highest new entry of the week comes from Eminem, who bows at 16 with 'Not Afraid'.
The top ten singles in full (click where possible for our reviews):
1.
(2)
Usher ft. will.i.am: 'OMG'
2.
(1) Brian McFadden ft. Kevin Rudolf: 'Just Say So'
3.
(7) B.o.B. ft. Bruno Mars: 'Nothin' On You'
4.
(6) Vanessa Amorosi: 'Mr Mysterious'
5.
(3)
Justin Bieber ft. Ludacris: 'Baby'
6.
(4)
Train: 'Hey, Soul Sister'
7.
(13) Jason Derulo: 'Ridin' Solo'
8.
(5) Lady GaGa: 'Alejandro'
9.
(8) Adam Lambert: 'Whataya Want From Me'
10.
(9) Richard Vission & Static Revenger ft. Luciana: 'I Like That'