Music News
Roll Deep beat Jason Derulo to No. 1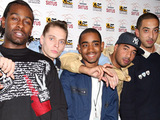 Roll Deep have beaten
Jason Derulo
to claim the number one spot in this week's UK singles chart.
'Ridin' Solo' jumped a massive ten places, but was unable to beat the grime crew, who fended off competition to stay at number one with 'Good Times'.
Elsewhere, Usher and Aggro Santos finished in third and fifth place respectively, despite more positive
midweek
positions.
Among three entries in the top ten was Edward Mayo, who slotted in at an impressive fourth place, while Plan B fell three slots to number six.
Fyfe Dangerfield's cover of Billy Joel's 1977 song 'She's Always A Woman', which was helped by its presence on John Lewis TV ads, debuted at number seven.
Alexandra Burke rose eight places to number eight, ahead of
Glee
's cover of Bonnie Tyler's power ballad 'Total Eclipse Of The Heart'.
Kelis was a non-mover in tenth place, while Taio Cruz's
'Dirty Picture'
moved out of the top ten for the first time after nine weeks, settling for 11.
The top ten singles in full (click where possible for our reviews):
1.
(-) Roll Deep: 'Good Times'
2.
(12)
Jason Derulo: 'Ridin' Solo'
3.
(2) Usher: 'OMG'
4.
(-) Edward Maya ft. Vika Jigulina: 'Stereo Love'
5.
(-)
Aggro Santos ft. Kimberly Wyatt: 'Candy'
6.
(3)
Plan B: 'She Said'
7.
(14)
Fyfe Dangerfield: 'She's Always A Woman'
8.
(16)
Alexandra Burke ft. Pitbull: 'All Night Long'
9.
(-) 'Glee' ft. Jonathan Groff: 'Total Eclipse Of The Heart'
10.
(-) Kelis: 'Acapella'
Source: Official Charts Company
> Click here for this week's top ten albums