Music News
B.o.B claims first ever UK number one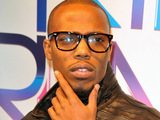 B.o.B
has claimed his first ever number one in the UK singles chart this week.
'Nothin' On You' beat 'Ridin' Solo', as Jason Derulo had to settle for second place again, while Roll Deep ended their three-week reign at number one, slipping to third place.
B.o.B, aka Bobby Ray Simmons, reacted on Radio 1 to his victory: "I just want to show people that there are endless possibilities of what you can do.
"You don't just have to be a rapper; you can be anything you want to be and whatever you do, just love it and it will show."
Elsewhere, Alexandra Burke jumped four places to number four with 'All Night Long', ahead of Edward Maya and Usher, who both fell to fifth and sixth spot respectively. Behind 'OMG' was Aggro Santos with 'Candy', which was down two places from
last week
.
Plan B and Fyfe Dangerfield took eighth and ninth spot, ahead of an unlikely new entry from Leeds United FC, who were promoted to the Football League Championship last weekend.
Moving out of the top ten,
Glee
dropped 20 places to number 27, while Kelis moved down just two spots to 12.
Meanwhile, Muse failed to make the top ten with their newly-released track
'Neutron Star Collision'
.
The top ten singles in full (click where possible for our reviews):
1.
(-) B.o.B ft. Bruno Mars: 'Nothin' On You'
2.
(2)
Jason Derulo: 'Ridin' Solo'
3.
(1) Roll Deep: 'Good Times'
4.
(8)
Alexandra Burke ft. Pitbull: 'All Night Long'
5.
(4) Edward Maya ft. Vika Jigulina: 'Stereo Love'
6.
(3) Usher: 'OMG'
7.
(5)
Aggro Santos ft. Kimberly Wyatt: 'Candy'
8.
(6)
Plan B: 'She Said'
9.
(7)
Fyfe Dangerfield: 'She's Always A Woman'
10.
(-) Leeds United FC: 'Leeds Leeds Leeds (Marching On Together)'
Source: Official Charts Company
> Click here for this week's album chart