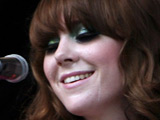 Kate Nash
had admitted that she believes the current crop of UK female artists is having a damaging effect on the music industry.
Nash, who recently released her second studio album
My Best Friend Is You
, hit back at female singer-songwriters such as Pixie Lott and Little Boots because they create a false impression of indie music.
She explained to
Beatweek
: "I actually think it's so damaging when I hear people saying, 'Oh it's so great - all these young female artists are doing so well'.
"I'm like, 'No, because big manufactured labels think that's what sells'. So they invent a bunch of pretty girls to do something alternative and build their indie careers when they've been signed to a major the whole time."
The 'Do Wah Doo' singer also admitted that the best thing about songwriting is having the opportunity to express herself.
She continued: "Too many people are bland and afraid to have an opinion, because people will say, 'Oh, it's so shocking, oh it's this,' or it'll be reactionary, and it's like, 'Who cares?'"
Nash was recently announced as a
headliner
at this year's iTunes Festival.