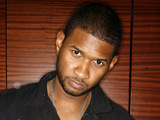 Usher
has fended off stiff competition from B.o.B. and Ke$ha to remain atop the ARIA singles chart.
His hit 'OMG' - also No.1 on the US singles chart at present, and a recent chart-topper in the UK and Ireland too - extends its reign down under to four weeks.
B.o.B. holds steady at two with Hayley Williams collaboration 'Airplanes', while Ke$ha leaps from eight to three with 'Your Love Is My Drug'.
Jason Derulo makes inroads in the top ten this week, climbing from nine to seven with 'Ridin' Solo'.
Meanwhile, two tracks featured in the most recent episode of
Glee
land in the top 40: 'Jessie's Girl' at 15 and 'Total Eclipse Of The Heart' at 28.
Miley Cyrus also makes a notable debut this week, bowing at 18 with 'Can't Be Tamed'.
The top ten singles in full (click where possible for our reviews):
1.
(1)
Usher ft. will.i.am: 'OMG'
2.
(2) B.o.B. ft. Hayley Williams: 'Airplanes'
3.
(8)
Ke$ha: 'Your Love Is My Drug'
4.
(5) Yolanda Be Cool & DCup: 'We Speak No Americano'
5.
(3)
Katy Perry ft. Snoop Dogg: 'California Gurls'
6.
(4)
Taio Cruz: 'Break Your Heart'
7.
(9)
Jason Derulo: 'Ridin' Solo'
8.
(6)
B.o.B. ft. Bruno Mars: 'Nothin' On You'
9.
(7) Brian McFadden ft. Kevin Rudolf: 'Just Say So'
10.
(10)
Train: 'Hey, Soul Sister'