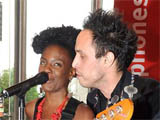 The
Noisettes
have revealed that they nearly split up after going through a "rough patch" earlier this year.
The trio's guitarist Dan Smith admitted that his feelings for singer Shingai Shoniwa got in the way of the group and that arguments between them almost resulted in the group's demise.
He said: "We've had a few rough patches. We've known one other for 12 years and we're like brothers and sisters. But stuff nearly came between us.
"To quote our own lyrics from 'Never Forget You', we nearly got 'swallowed up' by other s**t.
"I really fancied the s**t out of [Shingai]. It's always been one of those weird Romeo and Juliet things where they never actually have each other and they both die."
He continued: "It's personal stuff about long-running things and it's still kind of there, but people just want to get on with stuff. It's real life."
Smith also revealed that the band are working on their second studio album.