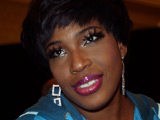 Macy Gray
has admitted that she enjoys performing in the UK because America makes her fee like "s**t".
The singer, who is gearing up to release her new record
The Sellout
, said that she has a "good time" when visiting Britain.
She told the
Daily Star
: "When America is making me feel like s**t I come over here, play to 20,000 people and have a good time."
Discussing her new LP, she said: "I love this album. It ended up being a big love letter to my fans."
Gray releases
The Sellout
on June 21.