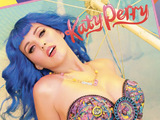 Katy Perry
has ended Usher's six-week reign over the ARIA singles chart.
Her hit 'California Gurls' - which features an appearance from rapper Snoop Dogg - climbs from three to the top spot to become her second Aussie number one.
The popstar, 25, previously reached the summit with 'I Kissed A Girl' in 2008.
Usher's 'OMG' slips to two, while B.o.B.'s 'Airplanes' - a collaboration with Paramore singer Hayley Williams - falls to three.
Meanwhile, David Guetta's 'Gettin' Over You' - a recent UK chart-topper - climbs from six to a new peak of five.
The highest new entry of the week comes from Kylie Minogue, who debuts at 14 with 'All The Lovers' to notch up her 33rd Aussie top 20 hit.
The top ten singles in full (click where possible for our reviews):
1.
(3)
Katy Perry ft. Snoop Dogg: 'California Gurls'
2.
(1)
Usher ft. will.i.am: 'OMG'
3.
(2) B.o.B. ft. Hayley Williams: 'Airplanes'
4.
(5) Yolanda Be Cool & DCup: 'We Speak No Americano'
5.
(6)
David Guetta & Chris Willis ft. Fergie & LMFAO: 'Gettin' Over You'
6.
(4)
Jason Derulo: 'Ridin' Solo'
7.
(7)
Taio Cruz: 'Break Your Heart'
8.
(9) Travie McCoy ft. Bruno Mars: 'Billionaire'
9.
(8)
Ke$ha: 'Your Love Is My Drug'
10.
(13)
Eminem: 'Not Afraid'