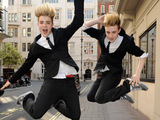 Jedward
star Edward Grimes has revealed that doctors have warned him that he may never dance again.
The 18-year-old twin
fell on stage
and torn knee ligaments during a performance at T4 On The Beach over the weekend.
"In hospital they said I might not be able to dance again and needed surgery," Grimes told the
Daily Record
. "They say it will be okay and I can go on tour, but I might have to go round in a wheelchair.
"I'll be having surgery as soon as possible in case anything goes wrong and I need more surgery. If I couldn't dance again I'm not sure what would happen, so I am a bit worried. The show is about dancing and performance."
The former
X Factor
contestant continued the performance with brother John but admitted that he was close to tears.
"From the minute I jumped off the stairs, I was in pain. I was smiling but my cheeks were collapsing in like I wanted to cry. I heard something snap and then I collapsed," he said.
The duo previously
claimed
that they would not scrap their upcoming tour because of the injury.