Music News
Katy Perry continues reign on US chart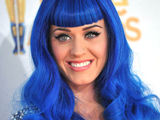 Katy Perry
has clocked up a fifth week at the top of the US Billboard Hot 100 with 'California Gurls'.
The track holds off competition from Eminem's 'Love The Way You Lie' featuring Rihanna, which spends a second week at number two.
Elsewhere in the chart, Taio Cruz has leapt into the top ten with 'Dynamite', jumping from last week's 14 to number seven. Eminem's 'Not Afraid' has crept back to number ten from last week's 11.
Further down the chart, Enrique Iglesias' 'I Like It' reaches a new peak of 18 from 22, and Ciara cracks the top 50 after eleven weeks on the chart with 'Ride'.
David Guetta lands at 65 with his Flo Rida collaboration 'Club Can't Handle Me', and VV Brown dips from 67 to 82 with 'Shark In The Water'.
The top ten singles in full (click where possible for our reviews):
1.
(1)
Katy Perry: 'California Gurls'
2.
(-) Eminem ft. Rihanna: 'Love The Way You Lie'
3.
(2)
Usher: 'OMG'
4.
(3)
B.o.B ft. Eminem & Haley Williams: 'Airplanes'
5.
(5) Travie McCoy ft. Bruno Mars: 'Billionaire'
6.
(7) Mike Ponser: 'Cooler Than Me'
7.
(14) Taio Cruz: 'Dynamite'
8.
(6) Drake: 'Find Your Love'
9.
(10)
Jason Derulo: 'Ridin' Solo'
10.
(11)
Eminem: 'Not Afraid'