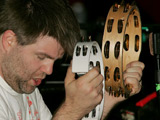 James Murphy has jokingly compared
LCD Soundsystem
's current tour to a Broadway musical.
The band's frontman has revealed that the tour is not currently focussing on their latest album
This is Happening
.
However the singer said the tour will develop 'sort of like a Broadway musical'.
Speaking to
NME
, Murphy said: "We're not necessarily touring
This Is Happening
, this part of the tour is us trying to be the best version of the band we've been for eight years.
"Then as the tour goes on it will be more about the new record and other things like that. Sort of a development like a Broadway musical."