Music News
Eminem, Rihanna end Perry's US chart reign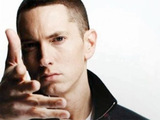 Eminem
and Rihanna have ended Katy Perry's six-week reign over the Billboard Hot 100 singles chart.
Their hit 'Love The Way You Lie' - also
top in Australia
at present - climbs to No.1 this week after spending three consecutive weeks in second position.
It becomes the fourth and seventh US chart-toppers for Eminem and Rihanna respectively.
Perry slips to two with 'California Gurls', while B.o.B. and Hayley Williams hold steady at three with 'Airplanes'.
Meanwhile, Taio Cruz climbs from six to four with 'Dynamite', the follow-up to his transatlantic chart-topper 'Break Your Heart'.
Notable gains outside the top ten come from Shontelle, who jumps from 16 to 13 with 'Impossible', and Maroon 5, who leap from 44 to 28 with 'Misery'.
The top ten singles in full (click where possible for our reviews):
1.
(2) Eminem ft. Rihanna: 'Love The Way You Lie'
2.
(1)
Katy Perry: 'California Gurls'
3.
(3)
B.o.B ft. Eminem & Haley Williams: 'Airplanes'
4.
(6) Taio Cruz: 'Dynamite'
5.
(4)
Usher: 'OMG'
6.
(7) Mike Posner: 'Cooler Than Me'
7.
(5)
Travie McCoy ft. Bruno Mars: 'Billionaire'
8.
(8)
Enrigue Igelsias ft. Pitbull: 'I Like It'
9.
(9) Drake: 'Find Your Love'
10.
(10)
Jason Derulo: 'Ridin' Solo'