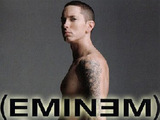 Eminem
and Rihanna have ended Katy Perry's month-long reign over the Irish singles chart.
Their hit 'Love The Way You Lie' - also top in
Australia
and the
US
at present - climbs from three to No.1 this week.
Perry's 'California Gurls' slips to two, while Australian dance artists Yolanda Be Cool & DCUP climb from five to three with 'We No Speak Americano'.
Meanwhile, Eliza Doolittle scores her first top ten hit in Ireland after jumping from 14 to six with 'Pack Up'.
Enrique Iglesias and Shakira also enter the top ten this week. The former leaps from 15 to nine with 'I Like It', while the latter advances from 12 to ten with her World Cup single 'Waka Waka (This Time For Africa)'.
X Factor
twins Jedward have to settle for a number 21 debut with their cover of Blink-182's 'All The Small Things'. Their previous single, a mash-up of 'Under Pressure' and 'Ice Ice Baby', topped the Irish singles chart upon its February release.
However, their debut album
Planet Jedward
enters the Irish albums chart at No.1 this week.
The top ten singles in full (click where possible for our reviews):
1.
(3) Eminem ft. Rihanna: 'Love The Way You Lie'
2.
(1)
Katy Perry ft. Snoop Dogg: 'California Gurls'
3.
(5)
Yolanda Be Cool & DCUP: 'We No Speak Americano'
4.
(2)
B.o.B ft. Hayley Williams: 'Airplanes'
5.
(6)
Lady GaGa: 'Alejandro'
6.
(14)
Eliza Doolittle: 'Pack Up'
7.
(4)
JLS: 'The Club Is Alive'
8.
(9)
Example: 'Kickstarts'
9.
(15)
Enrique Iglesias ft. Pitbull: 'I Like It'
10.
(12)
Shakira ft. Freshlyground: 'Waka Waka (This Time For Africa)'