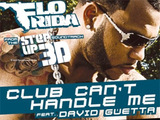 Flo Rida
and David Guetta have climbed to the top of the UK singles chart with 'Club Can't Handle Me'.
The track first entered the charts at five a fortnight ago, before climbing to two last week and eventually displacing Neyo at the number one spot today, sending 'Beautiful Monster' down to fifth place.
Just ahead of the R&B star are Eminem and Rihanna with 'Love The Way You Lie', which climbs to the runner-up spot on the charts for the second time in its eighth week of release, and 'Missing You' by The Saturdays, which becomes this week's highest new entry and the band's ninth UK top 10 single.
Another significant faller on this week's chart is former number one The Wanted's 'All Time Low', which slips just out of the top five and settles in at eight. Just a few spots behind is Tinchy Stryder, who achieves the second-highest new entry of the week and his fourth top 10 single with 'In My System' at ten.
Outside the upper half of the chart sees a total of seven songs between the 11 and 20 spots take a tumble, the most significant of which is
'Choices'
by The Hoosiers, which falls five places from 11 to 16, ahead of a new entry by Ellie Goulding,
'The Writer'
, which debuts at 19.
The top ten in full:
1.
(2)
Flo Rida ft. David Guetta: 'Club Can't Handle Me'
2.
(4)
Eminem & Rihanna: 'Love The Way You Lie'
3.
(-)
The Saturdays: 'Missing You'
4.
(3)
Yolanda Be Cool & D Cup: 'We No Speak Americano'
5.
(1)
Ne-Yo: 'Beautiful Monster'
6.
(6)
Travie McCoy ft. Bruno Mars: 'Billionaire'
7.
(7)
B.o.B ft. Hayley Williams: 'Airplanes'
8.
(5)
The Wanted: 'All Time Low'
9.
(8)
Eliza Doolittle: 'Pack Up'
10.
(-)
Tinchy Stryder: 'In My System'
Source: Official Charts Company
> Click here for this week's albums chart