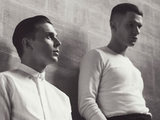 Hurts
have claimed that they offer an alternative sound to music currently in the charts.
The duo, whose new single
'Wonderful Life'
is out this week, believe many artists are "piggy-backing" on popular sounds in order to score a hit song.
In an interview with
Digital Spy
, singer Theo Hutchcraft said: "We're coming up from the bottom and hopefully providing an alternative.
"Pop music thrives on it. Back in the day you had your Oasises and your Spice Girls, your Depeche Modes and your Nik Kershaws. It's a difficult path offering something different, but you have to just keep going at it."
On the current state of the charts, he commented: "British pop music seems to go in waves - it thrives on individuality but at the moment a lot of artists sound the same.
"There's a lot of piggy-backing going on. I think it's about to change though - the public aren't stupid."
> Click here to read the full interview with Hurts