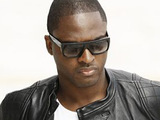 Taio Cruz
has stormed to the top of the Irish singles chart
'Dynamite' becomes the singer's first number one, following previous number two hit 'Break Your Heart'. Cruz knocked Eminem and Rihanna down a spot to second place.
Brandon Flowers's 'Crossfire' jumps 31 places to number four, just ahead of Travis McCoy featuring Bruno Mars.
Elsewhere in the chart, Ke$ha's 'Take It Off' climbed ten into the top 20 while Rumer's 'Slow' is a new entry at 33.
The Irish top ten singles in full:
1.
(26)
Taio Cruz: 'Dynamite'
2.
(1)
Eminem ft. Rihanna: 'Love The Way You Lie'
3.
(2)
Flo Rida ft. David Guetta: 'Club Can't Handle Me'
4.
(35)
Brandon Flowers: 'Crossfire'
5.
(3)
Yolanda Be Cool & DCUP: 'We No Speak Americano'
6.
(5)
Travie McCoy ft. Bruno Mars: 'Billionaire'
7.
(4)
B.o.B ft. Hayley Williams: 'Airplanes'
8.
(6)
Eliza Doolittle: 'Pack Up'
9.
(7)
Swedish House Mafia: 'One (Your Name)'
10.
(11)
Katy Perry: 'California Gurls'
> Click here to see this week's album chart