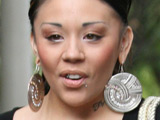 Mutya Buena
has announced details of a new album celebrating London's Camden market.
The former Sugababe will release
Sound Of Camden
, which features 11 covers of classic punk-rock songs, later this month.
A press release states that the record will "capture Camden's unique ambiance and the album will be an ideal memento for the millions of people who visit one of London's best-loved locations from all over the world each year."
Buena is quoted as saying: "I am connected to the market and now I am singing songs that my mother loves as well, it's amazing!"
Buena's vocals feature on six of the LP's tracks, which include Nivarna's 'Come As You Are' and a cover of The Pixies' 'Hey'.
Sound Of Camden
is out September 22.
The full tracklisting is as follows:
1.
Anybody Seen My Baby (Rolling Stones)
2.
Come As You Are (Nirvana)
3.
Come Back And Stay (J. Lee/Paul Young)
4.
Creep (Radiohead)
5.
Sunday Bloody Sunday (U2)
6.
Like A Stone (Audioslave)
7.
Shine On (House of Love)
8.
Hey (Pixies)
9.
Zombie (Cranberries)
10.
I Run (Flock of Seagulls)
11.
Ancient Melody (Roy Sela)