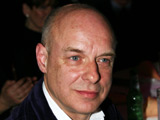 Brian Eno
has said that he is pleased to have signed
a deal
with
Warp
.
The musician and producer releases
Small Craft On A Milk Sea
on November 2 in various formats. The album was recorded in collaboration with Jon Hopkins and Leon Abrahams.
Speaking about his recording partners, Eno told
The Quietus
: "The two of them are gifted young player/composers whose work, like mine, is intimately connected to the possibilities and freedoms of electronic music.
"Over the last few years we've worked together several times, enjoying exploring the huge new sonic territories now available to musicians. Mostly the pieces on this album resulted not from 'composition' in the classical sense, but from improvisation.
"The improvisations are not attempts to end up with a song, but rather with a landscape, a feeling of a place and perhaps the suggestion of an event. In a sense they deliberately lack 'personality': there is no singer, no narrator, no guide as to what you ought to be feeling."
He added: "I am especially pleased to be releasing this new material on Warp, for a long time one of the truly innovative labels. I am pleased to be in the company of many artists whose work I've followed and admired over the years. I look forward to a rewarding relationship."