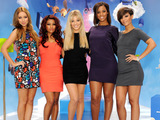 The Saturdays
are set to feature on Roll Deep's next single.
The girl group, whose latest single 'Higher' features Flo Rida, will provide vocals on the chorus for the unnamed track, due out later this year.
"Roll Deep went with the two number ones, we've just put the vocals on the third," frontman MC Wiley told
RWD
.
"Our producer Danny Weed made it again and I think we're getting The Saturdays to sing the chorus - so we want to try and get that one hitting the top five in the charts again. Then we'll get ready for the album."
Wiley, who is often labelled as the 'Godfather of Grime', admits the title is a "big weight" on his shoulders.
He continued: "I've got to live and die for it. It's so sad because I don't even want to be that, but it's too late and I've been given it.
"People label me 'The Godfather' and they label James Brown what he is; it's a big weight on your shoulders. I do love it, but I do envy how some things happen, like how someone else who is not godfather can just sail through to the top of the scene, like MC Chipmunk."
Roll Deep's third studio album,
Winner Stays On
, is slated for release before the end of the year.