Music News
'X Factor' Shayne holds singles top spot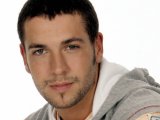 X Factor
winner Shayne Ward's debut single is number one for the second week running.
'That's My Goal', which shifted almost 750,000 copies to land the Christmas top spot, sold a further 132,000 over the last week to hold the title.
Nizlopi's 'JCB Song' stayed put at two with 53,000 copies. The highest new entry was Hard-Fi's 'Cash Machine', which charted at fourteen.
The top ten in full:
1.
(1) Shayne Ward: 'That's My Goal'
2.
(2) Nizlopi: 'JCB Song'
3.
(8) Madonna: 'Hung Up'
4.
(5) Eminem: 'When I'm Gone'
5.
(3) Pogues: 'Fairytale Of New York'
6.
(7) Pussycat Dolls: 'Stickwitu'
7.
(13) Black Eyed Peas: 'My Humps'
8.
(12) Sugababes: 'Ugly'
9.
(11) James Blunt: 'Goodbye My Lover'
10.
(9) Girls Aloud: 'See The Day'