Music News
Danny McFly teams up with Rodger Sanchez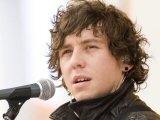 McFly
's Danny Jones has revealed that he will feature on DJ Rodger Sanchez's forthcoming album.
The singer and guitarist, who is gearing up for the release of McFly's new album
Above The Noise
, offered to provide vocals for the US disc jockey after meeting him at a hotel.
The Sun
reports that the pair are considering recording an entire dance album together.
"Roger is very impressed with Danny," a source said.
"McFly's 'Party Girl' had a dance edge but their new work is heavier house. Roger reckons Danny's got a great feel for dance music and a great future."
The band recently streamed the shooting of their music video for new single
'Shine A Light'
live via their website.
The track, released next month, features the work of pop producer Taio Cruz.