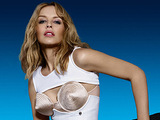 Tim Rice-Oxley
has said that it was great to work with Kylie Minogue on her last album.
The Keane and Mt. Desolation songwriter co-wrote 'Everything Is Beautiful', which features on Minogue's
Aphrodite
.
Asked about the collaboration, Rice-Oxley told
DS
: "Well, I think everyone's a fan of Kylie. You can't not be!
"I'd worked with Stuart Price on
Perfect Symmetry
and he was producing the record. I think that he probably suggested me as someone who might be able to come up with something."
He added: "I co-wrote the song with Frazier T. Smith, who's an absolutely brilliant producer and writer. We'd also worked together on
Night Train
, so again it was a nice opportunity for us to do something together.
"It was great for me and Frazier and Stuart all to be in the studio with Kylie - it was a really fun thing. Just a really good opportunity for people I really like to get together. A privilege, really."
> Tim Rice-Oxley talks Mt. Desolation