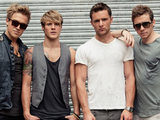 McFly's
Danny Jones
has claimed that American DJ Roger Sanchez may remix some of the bands songs.
Bang Showbiz
reports that the group met Sanchez this August and Jones immediately struck up a rapport with the DJ.
Jones claimed that Sanchez reminded him of Dallas Austin, who recently produced McFly's upcoming fifth album
Above The Noise
.
"He's a really nice guy - he gave me some good advice and wants to do some McFly remixes and stuff."
Above The Noise
, which was produced by both Dallas Austin and English singer Taio Cruz, will be released November 15.