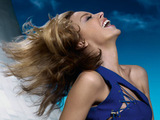 Kylie Minogue
will re-release her latest album
Aphrodite
, reports claim.
The singer, who put out her eleventh studio album in June, is said to be reissuing the LP later this year with extra tracks.
The news was revealed by singer-songwriter Luciana, who said that she has been asked to submit a track for the album after her song 'Cupid Boy' made the final tracklist on the original version of the record.
"Oh my God! [I'm] an ultimate Kylie fan! I absolutely love her," she told
Pop Trash Addicts
. "And I wanted to get on the last album and that didn't happen.
"We got ['Cupid Boy'] from Sebastian Ingrosso from Swedish House Mafia and we were like 'this is such a fabulous backing track that we need to make sure that what we do over it is amazing', and we worked and worked and edited and edited.
"Right at the last minute they chose the song. Oh God it was a moment. Honestly, I cried and called my mum. My mum was crying with me!"
Discussing working on the record's re-release, she revealed: "We submitted a song called 'If I Ruled The World'."
Aphrodite
entered the UK album chart at number one upon its release and has gone on to sell over 100,000 copies.