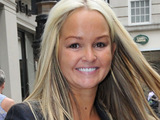 Jennifer Ellison
has said that she has no plans for a return to soaps or her career in pop music.
The former
Brookside
star revealed that she wouldn't rule out the possibility of another stint in a soapland or getting back in a recording studio, but that her heart is currently in theatre and TV acting.
When asked about working on another soap, the 26-year-old said: "It depends which one and what type of character. I would never say never, but at the moment it's not for me really. Just because I was in
Brookside
for five or six years and I think I reached my end point."
Speaking about her short pop career, which included the singles 'Baby I Don't Care' and 'Bye Bye Boy', she commented: "It's just something that during the middle of it, I was offered
Phantom The Movie
and that was too good to turn down.
"I kind of moved on from there. It was something I did love doing and something that I was really successful at. I was Top 10 with my first two singles and I was good at, it but acting is my main love and you can't really do the two of them together."
She added: "I'd never say never. I've had a lot more experience at live singing now and it would be second nature to me - it was pretty daunting first time out when I was 16. But I think I may have moved on from it now."
Ellison is starring alongside Jonathan Wilkes in
Robinson Crusoe and the Caribbean Pirates
at The Regent Theatre in Stoke-on-Trent from December 9 to January 9.