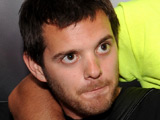 Mike Skinner has revealed that
The Streets
have begun work on their final album.
The singer posted a video on his official website, titled 'Comfortable', which showed himself working in the studio with various messages displayed on the screen.
One message said: "In the past year I've amassed a prodigious amount of valvery in the workhouse." Another read: "Big boxes of joyous, harmonically distorting glass wear."
Skinner
previously announced
that the follow-up to 2008's
Everything Is Borrowed
will be the last project for The Streets.