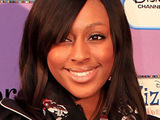 Alexandra Burke
will perform with 1,500 schoolchildren when she headlines the CLIC Sargent and Young Voices concert next month.
The fundraising event at the Royal Albert Hall will aim to raise more than £150,000 for children and young people who suffer from cancer. Burke will perform with the massive choir made up of children from schools across London.
"I took part in the CLIC Sargent Christmas Celebration back in 2005 and I'm delighted to be performing at the event again this year," the '
'The Silence'
singer said. "It's a great experience to sing with such a huge choir of children who are performing to help raise money for other children.
"It should be a great night, and all the money raised will help CLIC Sargent to be there every step of the way for children and young people with cancer."
Lorraine Clifton, Chief Executive of CLIC Sargent added "We are thrilled Alexandra will be donating her time and lending her support to this year's Christmas Celebration. Every ticket that is sold will help CLIC Sargent to continue our vital work, to reduce the impact of childhood cancer on the whole family."
Over £800,000 has been raised by the annual concert over the last five years.
Tickets for the December 10 event are currently on sale.