Music News
My Chemical Romance: 'We were damaged'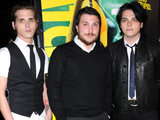 My Chemical Romance
star Gerard Way has suggested that the band were "damaged" before their decision to scrap their follow-up to
The Black Parade
.
The singer told
BBC Newsbeat
that the group discarded around 28 songs which they had already submitted to their record label. The re-written
Danger Days: The True Lives Of The Fabulous Killjoys
will now be released on November 22.
Way said: "It was just a pretty damaged band. It wasn't damage between us - it was just we had toured too long, we'd over-worked, we'd over-shot in a lot of ways. Over-exposed.
"We didn't have a semblance of real life at all. At that point [guitarist] Frank [Iero] was the only one with a home and he never saw it. None of us had homes.
"None of us could drive a car anymore. None of us could do anything for ourselves. It had just ground down to dust by a billion and one things."
Of the decision to scrap "an entire album - and then some", Way continued: "Something didn't feel right. It was a record that went against everything about the band that was great.
"Which was like having ambition, being ambitious, being visual, being artists, being excited, being free, reckless and rock 'n' roll. That stuff was gone and what was in its place was really boring."
> My Chemical Romance to quit after new LP?