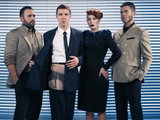 Scissor Sisters
fans are demanding a refund after a gig went ahead despite seemingly dangerous weather conditions.
The group, who performed in Glasgow last night, played the show despite many people being trapped in their homes due to the city's worst winter in 50 years.
A statement issued by the band's promoters said: "Last night the Scissor Sisters played a fantastic show to thousands of Scots fans. We do appreciate that there were some people who would have loved to have been at the concert but were unable to get to the venue due to the weather conditions.
"Both the band and the promoters regret that this was the case, they do feel however the fact that so many people attended and enjoyed the gig more than justifies the fact that it went ahead."
Prior to the gig, frontman Jake Shears told fans on his Twitter page: "As far as I know [the] show in Glasgow [is] going on as planned, but please don't come if it looks risky. Don't want anyone hurting themselves."
A fan who failed to attend the concert told the
Daily Record
: "When folk are taking advice from the police and government saying not to risk lives then those people who can't make it should get a refund.
"The reaction from the promoters is nuts. They just don't want to compensate people. I've wanted to see the band for years and almost got in the car to try it but it is not worth the risk in these conditions."
Another said: "The promoters don't have any consideration for the fans or their safety."
The group are due to play Newcastle - also badly affected by adverse weather conditions - this Friday.