Music News
Bruno Mars scores second US chart-topper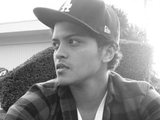 Bruno Mars
has topped the US singles chart with his latest single 'Grenade'.
The feat marks singer-songwriter's second solo chart-topper, matching the success of his debut 'Just The Way You Are' earlier this year.
Behind Mars, last week's number one Katy Perry slips to two with 'Firework', while Ke$ha jumps from five to three to complete to the top three with 'We R Who We R'.
Elsewhere, Wiz Khalifa's 'Black And Yellow' leaps 12 to six, Enrique Iglesias climbs from 13 to seven with 'Tonight (I'm Lovin' You), and Treyz Songz re-enters the top ten at eight with 'Bottoms Up'.
Further down the chart, The Lonely Island's 'I Just Had Sex' featuring Akon lands at 30, while Keri Hilson's 'Pretty Girl Rock' vaults from 42 to 31.
Taio Cruz's 'Higher' featuring Travie McCoy soars from 80 to 41 after two weeks on the chart, 3OH!3's 'Hit It Again' debuts at 66, and B.o.B's 'I Am The Champion' lands at 85.
The top ten singles in full (click where possible for our reviews):
1.
(2) Bruno Mars: 'Grenade'
2.
(1)
Katy Perry: 'Firework'
3.
(5)
Ke$ha: 'We R Who We R'
4.
(3)
Rihanna ft. Drake: 'What's My Name?'
5.
(4)
Pink: 'Raise Your Glass'
6.
(*) Wiz Khalifa: 'Black And Yellow'
7.
(13) Enrique Iglesias Feat. Ludacris & DJ Frank: 'Tonight (I'm Lovin' You)'
8.
(11) Treyz Songz Feat. Nicki Minaj: 'Bottoms Up'
9.
(8)
Black Eyed Peas: 'The Time (Dirty Bit)'
10.
(6)
Bruno Mars: 'Just the Way You Are'