Music News
Album of Radiohead covers planned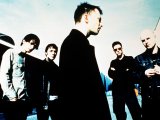 An album of various artists covering the songs of Radiohead will hit shelves this spring.
Entitled
Exit Music: Songs For Radioheads
, the release will feature covers of the band's hits including
Karma Police
,
No Surprises
and
High and Dry
.
The album will be available from April, whilst a single release of
Just
by Mark Ronson and Alex Greenwald (frontman of Phantom Planet) will hit shelves on March 13.
Gigwise.com
report the tracklisting as being:
1. Shawn Lee –
No Surprises
2. The Randy Watson Experience with Donn –
Morning Bell
3. Sa-Ra Creative Partners –
In Limbo
4. Pete Kuzma with Bilal –
High and Dry
5. Mark Ronson with Alex Greenwald –
Just
6. Rjd2 –
Airbag
7. Matthew Herbert with Mara Carlyle –
Nice Dream
8. Lo-Freq –
Blow Out
9. Meshell Ndegeocello & Chris Dave –
The National Anthem
10. The Bad Plus –
Karma Police
11. Sia –
Paranoid Android
12. Osunlade with Erro –
Everything In Its Right Place
13. Wajeed featuring Monica Blaire –
Knives Out
14. Cinematic Orchestra:
Exit Music (For A Film)