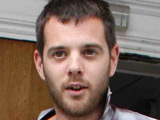 Mike Skinner
has admitted that signing a five-album deal at the start of his career helped shaped his decision to finish recording as The Streets.
The rapper/producer releases
fifth album
Computers and Blues
on February 7 and will retire The Streets moniker after touring the record.
Skinner told
The Observer
: "I signed a five-album deal, so the economics of The Streets really shaped it as much as my inspiration.
"It would be silly to end The Streets on the fourth album and then make another just to satisfy a deal, or to do six albums and do five of them on Warner and one of them independently. So it's part of the economics of my business and part of getting to that point."
He added: "I think it would devalue it to say that it was cynical but I know what I'm doing with The Streets - I've been doing it for too long... I don't want to do The Streets anymore. I should have moved on a long time ago."
Of his label's decision to delay the release of the album, despite the songs being at least nine months old, Skinner said: "I was given six months off because the label didn't want to release this album until after fourth-quarter album priorities.
"It wasn't that bad. They did it for my benefit. For my career, or something. It worked out quite nicely."
> Skinner releases Christmas song online