Music News
Tiësto named 'Greatest DJ Of All Time'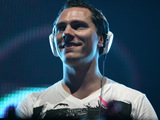 Tiësto
has been named the 'Greatest DJ Of All Time'.
An online poll for dance music magazine
Mixmag
placed the Dutch spinner at the top of the list, followed by Richie Hawtin and Sven Väth.
Editor of
Mixmag
Nick DeCosemo said: "Obviously with any public poll the results reflect current popularity as much as overall contribution, but we think that the top ten reflects a great spread of dance music genres and DJs over time.
"From techno, well represented by the likes of Richie Hawtin and Sven Väth, to drum 'n' bass with Andy C or hard dance with the sadly departed Tony De Vit. And of course, Tiësto, undoubtedly the biggest DJ in history."
He added: "For us, though, the result has always been secondary. The really great thing is the way that the process has sparked such passionate debate - from Facebook and Twitter to clubs and afterparties around the world."
The full top ten was as follows:
1.
Tiësto
2.
Richie Hawtin
3.
Sven Väth
4.
Carl Cox
5.
Ricardo Villalobos
6.
Andy C
7.
Paul van Dyk
8.
Tony De Vit
9.
Sasha
10.
2ManyDJs