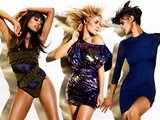 The
Sugababes
have revealed that they are concentrating their efforts into making a "great" new album.
The group, who are working on their eighth studio LP under their fourth lineup, said that they have yet to decide the direction of the record, but are enjoying the process of finding a new sound.
"We've literally been in the studio... just early days of starting to record the new album. We're really excited," Amelle Berrabah told
Radio 2
.
"We haven't got a sound yet. We've been asked a few times what sort of sound we're going for, but it's too early to decide. I've got two favourite ones at the moment and they're completely different. One is quite poppy and the other couldn't be less poppy if we tried."
She added: "It's a nice process and we're really focused and really looking forward to hopefully a great album and everyone else enjoying it.
"We definitely want to take our time, and if it isn't ready then we're going to keep working and not release it until we're 100% happy with it."
Producer Pete Boxsta recently tweeted that the band were
"killing it"
in the studio with their "fantastic" vocals.