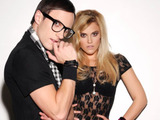 Same Difference
have revealed that they became depressed after being dropped from their record label.
The sibling duo, who lost their deal with Simon Cowell's record company label Syco last year, admitted that they "worried" about their future in music and did not expect to score a deal with a new label.
In an interview with
Digital Spy
, Sarah Smith said: "We found out last March that we'd lost our deal, but we still had our tour in May. Once that was done we were very worried and we both went into a bit of a depression.
"We started doing holiday clubs and gay clubs, and then thankfully we found a new management team who were keen to get us recording again. We got a new record deal... and were put straight to work on this album!"
Sean added: "We didn't come out of it bitter at all - not in the slightest. We knew that with shows like that, success is a long shot. Things could have been done differently and possibly better, but we certainly never felt bitter about anything."
Discussing their forthcoming LP
The Rest Is History
, Sarah described the record as "a mixture between The Saturdays and Alphabeat's new stuff. You could listen to it in a club and it wouldn't sound out of place."
The Rest Is History
is out February 7.
> Click here to read our exclusive interview with Same Difference