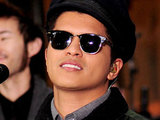 Bruno Mars
has continued his reign over the US singles chart with 'Grenade'.
The track, which entered the tally 18 weeks ago, holds off competition from Pink, who leaps 11 to two with 'F**kin' Perfect'.
Meanwhile, Pitbull and T-Pain's 'Hey Baby (Drop It To The Floor)' jumps from 10 to seven, while Far*East Movement and Ryan Tedder's 'Rocketeer' advances 16 to nine.
Further down the chart, Diddy-Dirty Money's 'Coming Home' climbs from 13 to 12, and Keri Hilson's 'Pretty Girl Rock' reaches a new peak on the chart, rising from 35 to 31.
Rihanna's 'S&M' vaults from 90 to 66, Adele's 'Rolling In The Deep' shifts from 84 to 69 and Ke$ha's 'Blow' re-enters at 96.
The top ten singles in full (click where possible for our reviews):
1.
(1)
Bruno Mars: 'Grenade'
2.
(11)
Pink: 'F**kin' Perfect'
3.
(2)
Katy Perry: 'Firework'
4.
(3) Wiz Khalifa: 'Black And Yellow'
5.
(4)
Enrique Iglesias ft. Ludacris & DJ Frank E: 'Tonight (I'm Lovin' You)'
6.
(5)
Rihanna ft. Drake: 'What's My Name?'
7.
(10) Pitbull ft. T-Pain: 'Hey Baby (Drop It To The Floor)'
8.
(6)
Britney Spears: 'Hold It Against Me'
9.
(16) Far*East Movement ft. Ryan Tedder: Rocketeer'
10.
(7)
Ke$ha: 'We R Who We R'