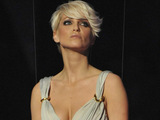 Roger Sanchez
has revealed that Sarah Harding is undecided as to whether she will record a solo album.
The producer and DJ, who is gearing up for the release of his new single '2Gether', said Harding will "definitely" feature on the LP, but has yet to decide if she will make a full solo LP with the hitmaker.
"We're not sure right now. She's still in the experimenting stage at the moment," Sanchez told
Digital Spy
.
"Whatever we come out with, we'll decide whether it's for her or me - although she will definitely feature on my album."
He continued: "It might be a good way to get the ball rolling on her project, but we haven't put any restrictions on how much or little we record together."
The 'Another Chance' star also revealed that he has written and produced a track for Harding with McFly's Danny Jones, adding: "Danny and I have written and produced one track with her, and I'm going to get together with her again soon and put some more ideas together."
'2Gether', which features Far*East Movement, is released on March 20.