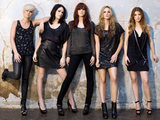 Wonderland
have revealed that they revamped their image ahead of their UK debut.
The group, who were put together by Louis Walsh and Westlife's Kian Egan, admitted that they "cringe" at pictures of the band from their initial launch.
"We actually cringe looking at pictures of ourselves from last year. We looked terrible," Jodi Albert to
The Mirror
.
Leigh Learmont added: "We were wearing leathers trying to be different and rocky but we just ended up looking like bloated versions of Aerosmith.
"I can't stand seeing pictures from even just a few months ago. We weren't eating healthily and we were always dressed in black. It was just wrong."
Albert continued: "Louis said we had to kill the rock look and go for something younger. Now we're watching what we eat, trying to be much healthier and I think we got the look just right. But we're drawing the line of going too far and stripping off too much."
Wonderland release their debut single 'Not A Love Song' next month.