Music News
Nicky Byrne: 'Westlife can get monotonous'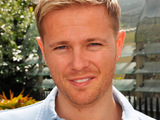 Nicky Byrne
has admitted that being part of Westlife can be 'monotonous'.
Speaking to
Metro
, the singer insisted that he still has a "fantastic" job 12 years on.
"It does [get monotonous], to be honest," he said. "We're 12 years in. It's all we've ever done since we were teenagers. Every job does become monotonous at times but it's a fantastic one."
Asked if he ever got 'fed up' singing cover versions, Byrne said: "We were spoilt by the amount of quality original songs we had when we first started. Things such as 'Flying Without Wings', 'Swear It Again' and 'Fool Again' were amazing pop songs.
"To keep your career going when you don't have those quality songs coming in abundance, you've got to do something. In the latter part of our career, every time we went in to do an album it was about what cover we could do. It was frustrating because we're better than that."
However, he added that the group are "delighted" with their latest album
Gravity
.
"We put our foot down a bit and worked with John Shanks, and did it in his house in LA," he said. "It was the first time we've worked with just one producer. We were more involved in the songwriting."
> Westlife: 'Our formula has to change'