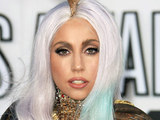 Lady GaGa
has continued her reign over the Billboard Hot 100 with 'Born This Way'.
The track spends a fifth week at the chart summit and fends off Cee Lo Green's 'F**k You!', which remains at number two.
Elsewhere in the top ten, Katy Perry leaps from eight to three with 'E.T.', Jennifer Lopez stays at number five with 'On The Floor' and Britney Spears's 'Till The World Ends' vaults from 20 to nine.
Diddy Dirty-Money's 'Coming Home' reaches a new peak on the tally after jumping from 22 to 11, The Black Eyed Peas advance from 38 to 22 with 'Just Can't Get Enough', and Gwyneth Paltrow and
Glee's
'Landslide' enters at 23.
Jessie J's Price Tag climbs from 78 to 58, and Jennifer Hudson's 'Where You At' lands at 96.
The top ten singles in full (click where possible for our reviews):
1.
(1)
Lady GaGa: 'Born This Way'
2.
(2)
Cee Lo Green: 'F**k You!'
3.
(8)
Katy Perry ft. Kanye West: 'E.T.'
4.
(3)
Rihanna: 'S&M'
5.
(5)
Jennifer Lopez: 'On The Floor'
6.
(4)
Pink: 'F**kin' Perfect'
7.
(3)
Bruno Mars: 'Grenade'
8.
(9)
Enrique Iglesias ft. Ludacris & DJ Frank E: 'Tonight (I'm Lovin' You)'
9.
(20)
Britney Spears: 'Till The World Ends'
10.
(7) Ke$ha: 'Blow'