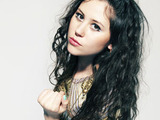 Eliza Doolittle
has revealed that she has no intention of moving into acting.
The 'Pack Up' singer refuses to pursue an acting career despite her grandmother being Sylvia Young, founder of the famous Sylvia Young Stage School, and both her parents being prominent figures in British theatre.
"I always loved singing. I was always trying to sing in school plays. I was in every one I could be in," she told the
Daily Record
.
"I always liked acting in school and drama classes but when people asked me what I wanted to be when I grew up, I always told them I wanted to be a singer.
"I didn't want to be a jack of all trades. I wanted to master one."
The star recently
revealed
that she is planning to work with Tinie Tempah on a duet soon.