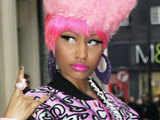 Nicki Minaj
has revealed that she has already begun work on her second album.
The 'Moment 4 Life' rapper, who recently
broke a US record with her debut album Pink Friday
, confessed that while she is anxious to lay down new material in the studio, her obligations to touring and collaborations with other artists have slowed her progress considerably.
"I slowed down because I've been rehearsing. I couldn't do a lot of stuff. There's things that are pending that I have to turn in," she told
MTV News
.
"I had to hand in a
Carter IV
verse. I handed in a verse to Birdman, and I handed in a verse to a very special lady that I think is gonna rock people's world,"
Minaj went on to say that while she already has a date in mind for the release of a new record, she is hesitant to share the info with the public.
"I can give you an idea. But I don't want to. I'd rather not right now. Because then everybody is gonna jump on the bandwagon and say they're putting out their album the same day," she explained.
It was recently reported that Minaj is
in the running to become a judge on X Factor USA
.