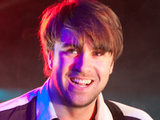 The Vaccines
have claimed that the hype surrounding the band was just something that happened, rather than being the result of a PR campaign.
The group's frontman Justin Young told
Absolute Radio
Hometime Show host Geoff Lloyd that he could not think of any of his friends who are more deserving of the attention.
Of Franz Ferdinand star Alex Kapranos and other musicians attending the first London Vaccines gig and hundreds of people reportedly being turned away, Young said: "I guess it is something that happens. I guess there's... I don't know, you know what Chinese whispers are like - there's always a good, boring explanation for everything.
"Alex was there because we've got the same manager, Marcus [Mumford] was there because he's my friend, and then obviously people like a good story, don't they?"
The
'Post Break-Up Sex'
singer added: "Essentially it was just a gig in a pub and it was full, which was exciting and fun, but I don't think any of us were really too concerned with who it was full with."
Asked if he felt that any of his peers deserved the attention his group had received, Young replied: "No."
Young recently claimed that
his reinvention from indie-folk singer Jay Jay Pistolet
to a garage rocker was not a calculated career move.