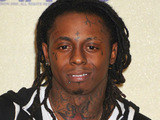 Producer Bryan 'Birdman' Williams has claimed that fans can expect to see a different side of
Lil Wayne
on his next record.
Williams has been working with the rapper on his forthcoming ninth studio album, but warned that the LP is likely to surprise a lot of people.
"He sounds brand new to me," Williams told
Billboard
recently. "There's a new energy, just a different energy."
The Cash Money Records co-chief claims that the album's sound is still recognisable as Lil Wayne, but that the music is much more "raw" than the his previous efforts.
"To me, he went back to that traditional raw Cash Money music, just raw beats, 808s popping off and Wayne rapping, hard," Williams explained. "It sounds really great to me."
He added that the hardest part of working with the rapper was simply that there were so many good songs to choose from when selecting the album's tracklist.
It was also confirmed that the album will feature guest appearances from the likes of Drake, Nicki Minaj and Williams himself.
Wayne resumed work on the album following his
release from jail in November
last year, after serving eight months in prison for criminal possession of a weapon.
Tha Carter IV is scheduled to be released
on May 16.